BIOSTIMULANT ACTION

(Plants – roots – soil)
+20% OF CARBON CAPTURE
Treat the causes, not the consequences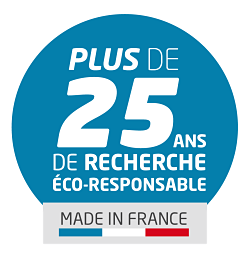 Lipotonine® – Lipoxyline®
LINK BETWEEN THE ENVIRONMENT AND PLANTS
Absorption
– Increase in assimilated light capture
– 20% more carbon capture
– Higher sugar and starch reserves
Protection
– Improved resistance to pests
– Strengthens plants against climate change
– Increases the strength of the stems, preventing breakage in case of very high production
MICRO-ORGANISMS AND MYCORRHIZAE
Root exudates
– Improves the biological activity of the soil
– Better exchange capacity between the plant and the soil
– In soils with low nutrient concentrations, their fixation is stimulated.
– Reduces the use of chemical inputs
Lipotonine® / Lipoxyline®
– Rapid intracellular transfer
– Limits oxidative stress
– Optimizes photosynthesis
– Increases the chlorophyll level in the chloroplasts
– Maintains the water balance of the plant
– Improves foliage function
Nos molécules, de faible poids moléculaire et liposolubles, pénètrent dans la plante par les membranes cellulaires des feuilles (diffusion simple).
Advantages
– Zero energy use
– Immediate assimilation of the product
– Increases the efficiency of other agri-inputs
Founded in 1963, SOFRAPAR is a French company that specialises in the research and development of a family of molecules with high biological activity: lipopeptides, from which Lipotonin® and Lipoxylin® are derived and which are the subject of international patents.
We are seeking to give autonomy and independence to farmers, and thus enable them to escape the programmed obsolescence of agricultural soils. Moreover, our latest research shows the considerable role on the life and structure of soils that we make 'suppressive' (inhibits the expression of pathogens).
Out of concern for the quality of food and human health, we have created a range of products and new techniques that we offer to improve the quality of your production, while respecting the environment.